Quiet Home / Quiet Windows
Acoustically speaking, a window is probably the least soundproof part of a wall.
Brick, Sheetrock and even wood are all very good sound insulators… glass, not so much. However, multiple panes of glass that are separated by a large gap can greatly improve the situation by creating a much more soundproof window. In many cases, simply replacing your old broken-down windows with energy efficient replacement windows can help quite a bit. New double-pane vinyl replacement windows with low-e, argon gas and a large space between the two panes of glass are not only energy efficient but also sound efficient.
Soundproof Window Replacement
Standard Double Pane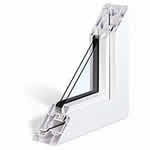 1/8″ Glass + 1/2″ Air Space + 1/8″ Glass – Energy Efficient Vinyl Frame
Dissimilar Glass
1/8″ Glass + 1/2″ Air Space + 1/4″ Glass – Efficient Vinyl Frame
Impact Laminated
1/8″ Glass + 1/2″ Air Space + 1/4″ .6mil Lam Glass – Efficient Vinyl Frame